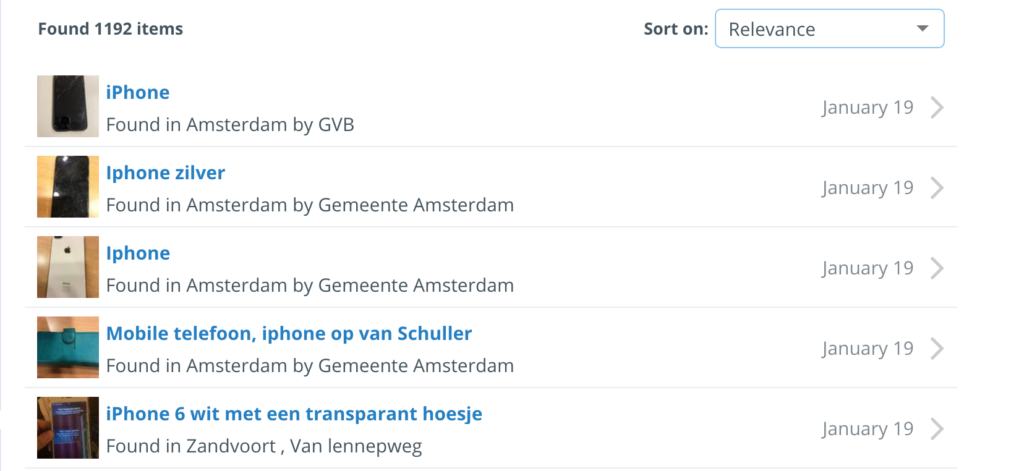 Lost and found solution in the digital age is all about convenience, simplicity and accessibility. You will agree with me, anything with an image becomes automatically easier, friendlier and memorable, doesn't it? Even though I have to admit, some things are better off left for your own creative imagination. Like reading an intriguing novel – associating the words with images in your head, that is fun. What is also fun is publishing lost and found images of items to facilitate the search for your customers.
Introducing images in lost and found solutions
The revolution is here! – disrupting the lost and found industry is what iLost do. The lost and found solution that iLost provides enables your employees to take a picture of found items and publish it on iLost for your customers to see. They then add a description with unique details about the item that only the owner would know. These internal notes they can use to verify ownership of the found item in case of a claim. After they hit publish, within 30 seconds, the item is searchable on iLost for your customers! 
The beauty in this is that your customers can search for their found items on iLost 24/7, 365 days a year. No more worries about weekends or public holidays. All they have to do is visit iLost, search for their item by typing in the name or keyword if you will (e.g. keys, iPhone, bag). If their item has been registered, they can make a claim which will be verified by your employees, thanks to the internal notes made during the registration process. The customer will be automatically notified when their claim is approved, and they are indeed the rightful owner of the found item. The only decision left for the customer to make is, to either pick up the item in person or have it shipped. Lost and found solution simplified.
Lost and found images will boost your lost property process
According to research, our brains can interpret images much quicker than text which is why images are used to instantly communicate a brand, service or product. Images make it easier for us to grasp the depth and context of something. When a customer has lost something, looking for it can be a really tough pill to swallow, so how do you make the experience for them as smoothly and stress-free as possible? – By publishing images of lost and found items on iLost, and watch your return rate skyrocket.
iLost facts
Thanks to the way iLost has introduced publishing images on lost and found items, a total of 72.8% of online matches have been recorded. This is due to the fact that your customers can immediately see an item and tell if it is theirs or not. Moreover, they can narrow down their search with the help of advance filter such as the place an item was found, the date it was registered etc. All provided and supported by iLost. No more writing novels of description emails, or pushing phone calls back and forth. Everything is handled in one place; iLost. From the moment you publish the found item right up to the point of reuniting the item with the rightful owner, everything is done on iLost. 
Simplicity brought to you by iLost through images. Your customers will love the autonomy and the fact that they can practically 'browse' while searching for their lost item. Apart from focusing on your core business, your employees will only have to verify the ownership of placed claims and voilà, another smile conjured!

For more information visit iLost and schedule a demo today! Calendly. Also, check out this fantastic illustrative infographic depicting how iLost works